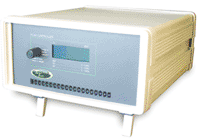 Heating & Cooling Temperature controller BTC-1-100, BTC-2-100
Can be used with Temperature controlled microscope stages, heated and cooled. Low electrical noise, heating and cooling temperature controller for microscope stages.
BTC-2-100 controller includes an independent second channel for objective heaters/coolers or perfusion TC-RD unit.

External Bath probes and internal Stage temperature sensor
Automatically switches from Heating to Cooling
Temperature Set manually (or externally BTC-2-100 only)
Over-heating protection prevents damage to your sample
Does not introduce electrical noise during recordings
Standby mode
Analog output to monitor temperature, and input to SET temperature (BTC-2-100 only)
RS232 port to monitor temperature, and to SET temperature (BTC-2-100 only)
Plastic-encapsulated external probes: no metal ions leakage into solutions

Most heating and cooling stages work as inline solution pre-heaters. Can be used with flow control and perfusion systems. Includes connecting cables. An external temperature probe might be needed, to monitor bath temperature for example. Incorporates an internal power supply: 12V is suitable for TC-RD and objective coolers, 24V is required for larger cooling stages.


Specifications:

Range:

-80 to 150°C with accuracy 0.1°C

Temperature probes:

miniature 0.87mm diameter; fits small volume chambers;

Settings:

flexible, allow to stabilize temperature in different sample volumes and heating stage sizes

Feedback:

STAGE (or External BATH probe for BTC-2-100 only)

Input/Output:

100-240VAC/4A max, 140W with 35V inside power supply

Dimensions:

6x2.5x9in.


Click on catalog numbers below to purchase online.
See sample publication:
1 Apparatus and Method for Producing Specimens for Electron Microscopy. patent US 20140360286 A1;
2 Eugenol and carvacrol excite first- and second-order trigeminal neurons and enhance their heat-evoked responses. Neuroscience. 2014 June 20; 271: 45–55;

Required accessories: cooling stages, cable, probes, power supply.

Optional accessories: perfusion system, flow control.

Download PDF manual for BTC-2-100, or BTC-1-100 controller.

Download PDF catalog.
---
Bioscience Tools
ph: 877-853-9755
fax: 866-533-7490
email: info@biosciencetools.com


PRICES AND OPTIONS

$995

1-Channel Temperature Controller, high stability, no electrical noise, with automatic cooling

$1,995

2-Channel Temperature Controller, high stability, no electrical noise, with automatic cooling

$95

Miniature 0.87mm temperature Probe

$195

Cable Assembly for BTC controller (included with the controller). A cooling stage and temperature probes can be attached to the cable connectors.