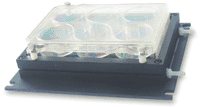 Cooling & Heating stage for 128x86mm multi-well plates, BTC-MWP
This heating/cooling stage was designed to fit standard multi-well plates. Provides black background for better visibility. Might require water heat sink circulator BTC-W for cooling to lower temperatures. The cooling area is an inside 128x86mm cutout. Requires a temperature controller.


Specifications:

Dimensions:

185x140x22mm, 128.5x86.5mm cutout, 5-7mm deep

Fits:

128x86mm plates

Heat Sink:

optional water cooling for low temperatures


Click on catalog numbers below to purchase online.


Required accessories: 1-channel or 2-channel temperature controller, sink cooling.

Download PDF manual.

Download PDF catalog.
---
Bioscience Tools
ph: 877-853-9755
fax: 866-533-7490
email: info@biosciencetools.com


PRICES AND OPTIONS

$1,995

Heating & Cooling stage for multi-well plates, 128x86mm