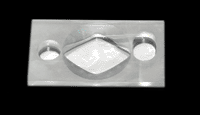 Laminar profile perfusion chamber, PLD22x40
Silicone chamber with laminar cutout to provide smooth perfusion. Attached to a 22x40 glass coverslip using self-adhesive gaskets. Thin 3mm profile allows you to use water immersion optics and access samples for recordings, injection and local substance application. Separate inflow and outflow compartments prevent bubbles from entering the working volume during perfusion. Requires a mounting adapter PLD-A and a microscope adapter. Consider adding an outflow unit for suction to remove solution during perfusion.


Adapter for laminar perfusion chamber, PLD-A

This adapter allows you to use laminar flow chamber PLD22x40 with any microscope adapter that have a 50mm cutout. The microscope adapters can be used to mount miniature holders for different accessories. Comes with four sets of clamps and mounting thumb screws to fix the chamber.


Specifications:

Outside dimensions:

22x40mm

Height:

3mm

Working volume:

14x20mm, approx. 280 microl


Click on catalog numbers below to purchase online.

Required accessories: microscope adapter, perfusion system, miniature tubing holders.

Optional accessories: flow control.

Download PDF catalog.
---
Bioscience Tools
ph: 877-853-9755
fax: 866-533-7490
email: info@biosciencetools.com


PRICES AND OPTIONS

$150

Laminar profile perfusion chamber

$150

Adapter for laminar perfusion chamber

$195

Magnetic microscope adapter. Specify microscope model when ordering.

$195

Miniature Magnetic Holders Set