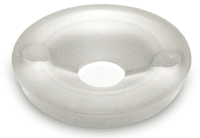 Small Volume Perfusion Laminar Chamber with Glass coverslip Bottom, PCCS2
Inside diameter is only 10 mm. The chamber has two separate openings for solution inflow and outflow to provide smooth perfusion and prevent bubbles from coming in. Low profile permits easy access with electrodes, pipettes and immersion optics. Combined with miniature holders, forms a perfusion system. Easy to use, simply release adhesive layer on the coverslip (even with media still present), and attach the chamber from the top. Coverslip is flashed on the bottom of the chamber.

The chamber is made out of polycarbonate. It is only 5.5 mm thick (high). The bottom of the chamber is a replaceable 30mm round coverslip. The coverslip is attached to the chamber by using adhesive layers (or any adhesive, even melted wax). Easy to clean after use. Note: Can be used with any thickness 30mm coverslips.


The chamber fits inside microscope stage adapter, specify microscope model when ordering. The chamber can be rotated inside the stage to provide required orientation of the sample.

Screw-type or magnetic tubing/electrode holders extend this flexibility even further. They can be positioned anywhere around the chamber, so that tubing is not in the way of objectives or recording electrodes. Furthermore, the holders can adjust the angle and, as a result, tubing can approach the sample from any direction. The holders can be used with perfusion manifolds. They also can be used to position reference electrodes or temperature probes, or even tubing to deliver gases, for example oxygen, over the sample. MTH-S stainless suction tubing provides smooth perfusion. If you are planning to use this system during perfusion experiments, all you need is a outflow unit for suction to remove solution during perfusion. Can be used for imaging and recording. Can be also used with 50mm BD Falcon and Willco glass bottom dishes. Click on image to enlarge.

Sample publication: 1


Specifications:

Outside diameter:

36.7mm

Height:

5.5mm

Working volume:

10mm diameter, approx. 100 microl


Click on catalog numbers below to purchase online.

Required accessories: microscope adapter, miniature tubing holders, coverslips, adhesive layers.

Optional accessories: perfusion system, flow control, temperature control, objective heater.

Download PDF manual.

Download PDF catalog.
---
Bioscience Tools
ph: 877-853-9755
fax: 866-533-7490
email: info@biosciencetools.com


PRICES AND OPTIONS

$150

Small Volume Perfusion Chamber for 30mm coverslips.

$125

Adhesive layers, pack of 50, for use with perfusion chambers.

$195

Miniature Magnetic Holders Set, x3. Includes stainless suction tubing.

$195

Magnetic microscope adapter. Specify microscope model when ordering.