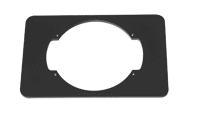 Microscope Adapter IMA-74
For use with cooling stages, miniature incubators TC-MIS and low-profile heating elements for 50mm dishes. Specify microscope model when ordering. An adapter for motorized stages and type K stages can be constructed by using IMA-motor base for 128x86mm inserts and IMA-74-128x86 insert (both parts should be ordered and ship together installed).


Specifications:

Inside opening:

74mm

Thickness:

3 mm

Use with:

TC-MIS incubators, cooling stages, and 50mm heating elements


Optional accessories: miniature holders, heating stages.

Download PDF catalog.
---
Bioscience Tools
ph: 877-853-9755, fax: 866-533-7490
email: info@biosciencetools.com


PRICES AND OPTIONS

$195

Microscope Adapter for Olympus microscopes, Burleigh Gibraltar stages, Narishige stages, Applied Precision stages, 110mm

$195

Microscope Adapter for Nikon microscopes, SISKIYOU stages, Burleigh Gibraltar stages, 108mm

$195

Microscope Adapter for Leica microscopes and Zeiss type M stages

$295

Microscope Adapter for motorized stages

$195

Microscope Adapter, 128x86mm

$195

Microscope Adapter for Leica stages, 150x150mm

$195

Microscope Adapter for Leica satges, 88mm