Miniature Incubator for mechanical microscopes stages to use with slides and Petri dishes, TC-MIS
Designed for long-term live cell imaging and time-lapsed microscopy. Can be used with Petri dishes, chambered coverglasses, coverslip holders and glass bottom dishes, both 35 and 50mm. Incorporates luer-lock ports for gas mixture (to control CO2 or hypoxia), inside reservoir for water to control humidity. Requires a heated cover (purchased separately), to prevent condensation. Built-in multiple ports for tubing and accessories (probes and sensors). Requires a temperature controller. Incorporates STAGE sensor for stable temperature control, and can be used with optional BATH probe to monitor inside temperature. Fits any microscope (specify microscope model when ordering, ships installed on the microscope adapter; some (Zeiss for example) microscopes need a recessed down insert - type K - and a different incubator with 160x110mm foot print). Can be upgraded with a heated lid with openings to access cells with micro-injection tools to perform cell manipulation.


Can be upgraded with an objective heater for immersion optics. Can be used with multi-channel solution switch and perfusion systems. An optional set of adjustable tubing holders MH-MIS allows you to position inflow and outflow tubing for continuous media exchange. All incubators require a lid, purchased separately.

Low-Profile configurations ( /L) are only 25mm high and can be used with microscope condensers that require low vertical positioning to obtain bright-field images with Phase-contrast or DIC optics. Incorporates two ports for CO2 input and to replenish water to control humidity inside. Although this configuration provides two ports that can be used for tubing, it is not recommended for perfusion applications due to reduced vertical clearance inside.

Incubator with 22x46mm aperture, TC-MIS-20x46/L. Can be used with 50mm dishes and chambers, slides/coverglasses, and, in combination with 50mm reducing insert TC-PA50 (-C, -N, -F, -W), with 35 dishes and coverslip holders CSC/UTIC.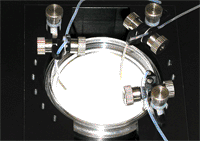 Specifications:

Stability:

0.1°C

Outside dimensions:

110 x 110 mm; 34mm from sample plane to the top cover (25mm clearance for low-profile configuration)

Optical aperture (on the bottom):

20x46mm, 65x75mm, 40, 35, 30, 15 and 11mm diameter

Use with:

50mm and 35mm glass bottom dishes, 1x3in. coverglasses/slides, coverslip holders CSC, custom devices, and UTIC chambers

Condensation free lid:

Uses a built-in temperature sensor to connect independently to the second channel of the temperature controllers; 70x70mm optical window

CO2 port:

Luer-lock connector to a source of gas mixture.

Water reservoir:

Controls humidity. Can be replenished through outside ports.

Media exchange and perfusion:

Multiple sealed inflow/outflow ports, a set of optional adjustable tubing holders to position inflow and outflow tubing inside sample chambers.
Perfusion cover low-profile, with perfusion ports and tubing, FLOW-LOW

For use inside TC-MIS incubators. Includes x2 sets of tubing to fit into reduced inflow and outflow ports, which extend to the bottom of a Petri dish. Tubing has a luer-lock fitting attached, and can be put through side ports of the incubator. This cover, if placed on a standard Petri dish, forms a flow cell. The high optical quality glass window on top is 12mm diameter. Can be used in combination with PDI insert to provide laminar flow. Can be used to replenish media around your samples during time-lapse imaging. Can be sterilized with ethanol solution or autoclaved (100°C max).

Click on catalog numbers below to purchase online. Sample publications:
4 CbtA toxin of Escherichia coli inhibits cell division and cell elongation via direct and independent interactions with FtsZ and MreB; PLOS Genetics September 20, 2017
3 Bacillus subtilis chromosome organization oscillates between two distinct patterns. September 2, 2014 vol. 111 no. 35;
2 Molecular Architecture of Synaptic Actin Cytoskeleton in Hippocampal Neurons Reveals a Mechanism of Dendritic Spine Morphogenesis. Mol. Biol. Cell January 1, 2010 vol. 21 no. 1 165-176;
1 Evolution of Network Synchronization during Early Epileptogenesis Parallels Synaptic Circuit Alterations. The Journal of Neuroscience, 8 July 2015, 35(27): 9920-9934;


Required accessories: temperature controller, microscope adapter, CO2 controller.

Optional accessories: objective heater, perfusion system and accessories, flow control.

Download PDF manual.

Download PDF catalog.
---
Bioscience Tools
ph: 1-877-853-9755
fax: 866-533-7490
email: info@biosciencetools.com


PRICES AND OPTIONS

$495

Lid for Miniature Incubator TC-MIS

$695

Miniature Incubators Lid for micro-injection and cell manipulation

$695

Miniature Incubator for Glass Coverglass, Slides and dishes, 20x46mm bottom aperture

$695

Low-profile Miniature Incubator for Glass Coverglass, Slides and dishes, 20x46mm bottom aperture

$195

Microscope Adapter for Miniature Incubators.

$95

50mm reducing adapter for 35mm dishes, to use with TC-MIS-20x46, TC-MIS40 and TC-MIS-30 models.

$95

Petri Dish Adapter -reducing rings- for Corning and Mattek dishes

$95

Petri Dish Adapter -reducing rings- for Nunc dishes

$95

Reducing adapter -reducing rings-, for FluoroDishes.

$95

Reducing adapter -reducing rings-, for Greiner Bio-One dishes, glass bottom

$95

Petri Dish Adapter -reducing rings- for Willco dishes

$195

Set of miniature adjustable tubing and sensor holders, x3, includes 4-40 threaded posts

$195

Perfusion cover low-profile, with perfusion ports and tubing

$195

Low Profile Chamber-Insert for Petri dish