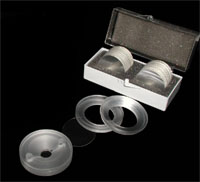 Polycarbonate perfusion Chamber for replaceable 10 mm coverslip, CSC-10P
Consists of two parts. The bottom part has a profile to fit No 2, 10 mm O.D., coverslip. The top part has 8 mm round working compartment with slanted edges for easy access to your sample and two separate compartments for solution inflow and outflow. This prevents bubbles from coming into the chamber.

Note: This chamber requires a long distance objective. If using objectives that require closer clearance, oil immersion high resolution objective especially, consider PCCS2 chambers.


Specifications:

Outside diameter:

35mm

Height:

4mm

Working volume:

8mm diameter, approx. 50 microl


Click on catalog numbers below to purchase online.

Required accessories: microscope adapter, miniature tubing holders.

Optional accessories: perfusion system, flow control.

Download PDF catalog.
---
Bioscience Tools
ph: 877-853-9755
fax: 866-533-7490
email: info@biosciencetools.com


PRICES AND OPTIONS

$225

Perfusion Chamber for replaceable 10 mm coverslip