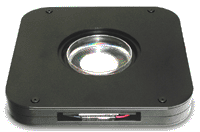 Cooling & Heating microscope stage for 60-50mm dishes, BTC-S50


Can be used with wider up to 59mm disposable dishes, including Willco 50mm glass bottom dishes. Comes with reducing adapter for 50mm dishes. Built in lines to cool heat sink for deep cooling. 30mm aperture. Click on image to enlarge. Can be used with reducing ring TC-PA50 to fit CSC and UTIC coverslip holders, and 35mm petri dishes (Petri dish reducing O-ring might be also needed, TC-PA-C for Corning dishes for example). Consider a different cooling stage for rectangular slides. Requires a microscope adapter (specify microscope model when ordering), sink cooling, and a temperature controller.


Specifications:

Dimensions:

145x145x23mm

Optical Aperture:

30mm

Objective working distance, minimum:

0mm (for inverted microscopes)

Stability:

0.1°C, built-in sensor

Sink:

optional water cooling for very low temperatures


Click on catalog numbers below to purchase online.

Required accessories: 1-channel or 2-channel temperature controller, sink cooling, microscope adapter.

Optional accessories: coverslip chambers.

Download PDF manual.

Download PDF catalog.
---
Bioscience Tools
ph: 877-853-9755
fax: 866-533-7490
email: info@biosciencetools.com


PRICES AND OPTIONS

$995

Heating & Cooling microscope stage for 50mm dishes

IMA-74

$195

Microscope adapter