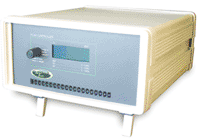 CO2 controller CO2-MI
Designed for live cell imaging and time-lapsed microscopy. For use with any custom enclosure and miniature incubators, to regulate CO2 level from 0 to 20%. Connects to a cylinder with compressed CO2 gas. The output connects directly to a gas port of the incubator or to a humidifier. Can provide up to 750sccm gas flow. The controller continuously senses CO2 concentration inside the incubator through CO2-UP attachment, which is small enough (69x29x25mm) to be placed inside custom enclosures. It can be also attached from outside. CO2 control at 5% level keeps pH of media constant. Simple to use: the controller ships calibrated for 5% level requirement. Can be adjusted to fill incubators and custom chambers of different volumes. The instrument not only controls gas content inside the incubator, but also brings the gas consumption to the minimum. Note: if using pre-mixed 5%CO2/95%O2 gas source - a different PC-MI controller is required.
Specifications:

Input:

max 100PSI

Output:

max 750sccm gas flow

Connectors:

Push-to-connect:
INPUT for 5/32in. (4mm) O.D. tubing (included);
OUTPUT for 1/8in O.D. tubing (included);
can be replaced with any 10-32 threaded connectors;
includes luer fitting for different size tubing;
includes easy-disconnect coupling for 1/4in. O.D. tubing

Indicators:

Digital display

Controls:

CO2 level 1-20%

INPUT PRESSURE manual regulator 0-25PSI,

Monitor:

Digital display

Dimensions:

8 x 4 x 9in. controller

69x29x25mm - CO2 attachment

Power:

100-240VAC 75W
Mixing Chamber, CO2-MIX
Designed to provide CO2 control inside small custom chambers and micro-incubators, where the small size does not allow mounting CO2-UP sensor attachment. The mixing chamber dimensions are 100x100x32mm, which are small enough to fit on a microscope stage. The chamber has x4 ports to connect multiple micro-incubators, and one input from CO2 controller. CO2-UP can be attached to the side of the mixing chamber. After mixing to the required concentration (5% CO2 for example), the gas mixture can be pumped into the micro-incubator using an optional pump or the miniature flow controller, that can deliver from micro-liters to 22ml/min gas flow.


Heated humidifier, CO2-500ml (Optional accessories)
A heated platform with 1L reservoir to provide gas saturation with water vapors by passing the gas mixture through heated water.

Sample publications:
5 Biocompatibility assay of cellular behavior inside a leaf-inspired biomimetic microdevice at the single-cell level. RSC Adv., 2017, 7, 32710;
4 Time-Lapse Monitoring of DNA Damage Colocalized With Particle Tracks in Single Living Cells. Int J Radiat Oncol Biol Phys. 2016 Sep 1;96(1):221-7;
3 Alterations in Ovarian Cancer Cell Adhesion Drive Taxol Resistance by Increasing Microtubule Dynamics in a FAK-dependent Manner. Nature, Scientific Reports, 17 April 2015, Volume:5, Article number:9529;
1 Evolution of Network Synchronization during Early Epileptogenesis Parallels Synaptic Circuit Alterations. The Journal of Neuroscience, 8 July 2015, 35(27): 9920-9934;
2 REGAINING TAXOL SENSITIVITY IN CHEMORESISTANT OVARIAN CANCER CELLS. Georgia Institute of Technology May 2015;


Required accessories: a source of CO2 gas, CO2-UP upgrade, miniature incubator.

Download PDF manual.

Download PDF catalog.

Click on catalog numbers below to purchase online.
---
Bioscience Tools
ph: 877-853-9755, fax: 866-533-7490
email: info@biosciencetools.com


PRICES AND OPTIONS

$1,995

CO2 Controller for Miniature Incubators

$595

CO2 Upgrade for Miniature Incubators - connects to CO2 Controller. Can be used with custom chambers.

$495

Mixing chamber for CO2 controller.

$595

Heated Humidifier. When passed through heated water, CO2 mixture becomes humid. Can be also used as an indicator of gas flow - bubbles will indicated gas flowing inside the incubator. Connects inline between the controller and the incubator.