Miniature Incubator for custom micro-fluidics devices and chambers, TC-MIW
Designed for long-term live cell imaging and time-lapsed microscopy. For use with any chamber or plate. Standard multi-well 86x128mm plates will fit inside. Incorporates heated glass bottom/ Requires a heated lid (purchased separately) to prevent condensation and to control CO2 or hypoxia. Built-in multiple ports for tubing and accessories, probes and sensors. One removable side provides multiple openings for micro-tubing. The chambers and devices can be formed directly on the glass bottom. Fits all brands of motorized stage (see table below). Can be used with a set of adjustable tubing holders to position perfusion tubing for continuous media exchange, provided optional inserts TC-I-100 or TC-I-4/3 are placed inside (see parts table at the bottom). The bottom is closed (for open bottom incubator, to access with immersion objective - consider another model). Sample publications:
1 On-site genetic analysis for species identification using lab-on-a-chip. Ecol Evol. 2021 Feb; 11(4): 1535–1543


| | |
| --- | --- |
| Brand | extension (if required) |
| Ludl, Prior, ASI, Marhauser, Zeiss | no extension required |
| Nikon 236x155mm: | TC-MI-NIK |
| Thorlabs 170x130mm: | TC-MI-THOR |
| Ludl Bioprecision II, 172x116mm: | TC-MI-LUDL |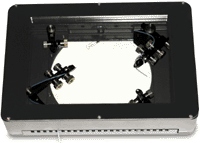 Specifications:

Outside dimensions:

fits 160x110mm cutout of motorized stages; the bottom is recessed 11mm below the top surface of motorized stages (8mm below the mounting surface, comes with 3mm spacers to reduce this recessed profile to 5mm), and can be leveled by set screws positioned in the corners of the incubator base

Inside dimensions:

86x128mm; 33mm from bottom to top lid surface (23.5mm for ultra-low lid option); 24mm inside clearance (17.5mm for ultra-low lid option); optional spacers allow to elevate the top surface 9.5mm - to provide more space inside the incubator

Heated bottom:

1mm glass

Stability:

0.01°C

Use with:

custom devices and chambers, standard multi-well plates, 35mm dishes, and 1x3in. glass coverglasses/slides

Condensation free lid:

Uses a built-in temperature sensor to connect independently to the second channel of temperature controllers, 81x121mm optical window

CO2 port:

Luer-lock connector to a source of gas mixture.

Media exchange and perfusion:

Multiple sealed inflow ports, a set of adjustable tubing holders to position inflow and outflow tubing inside sample chambers.
A set of tubing with luer-lock fitting and stainless steel needle attached x8, PS-KIT

Can be used with adjustable holders MH-MIS to provide inflow and outflow to chambers and dishes placed inside incubator. The holders are attached to optional inserts TC-I-4/3 or TC-I-100. Tubing fits through openings on sides of the incubator. The stainless needle attached to one end of the tubing can be bent to fit inside chambers and dishes. Includes multiple fitting (total more than 100 pieces), and threaded barbed luer locks for the incubator ports. For use with perfusion or continuous media exchange systems.

Click on catalog numbers below to purchase online.


Required accessories: temperature controller, CO2 controller.

Optional accessories: inserts (see table below).

Download PDF manual.

Download PDF catalog.


---
Bioscience Tools
ph: 877-853-9755, fax: 866-533-7490
email: info@biosciencetools.com


PRICES AND OPTIONS

$1,295

Miniature Incubator for custom devices and chambers, with closed heated bottom.

$1,295

Lid for miniature Incubator TC-MWP, -MWPHB, -MIW

$1,295

Ultra-low lid for miniature Incubator TC-MWP, -MWPHB, -MIW

$195

Spacer to elevate the lid 9.5mm

$195

Adapter for ThorLabs stages, 170x130mm

$195

Adapter for Nikon motorized stages, 236x155mm

$195

Adapter for Ludl Bioprecision II stages, 172x115mm

$195

Set of metal inserts, to position adjustable holders, can be used with chambers up to 90mm diameter

$195

Set of miniature adjustable tubing and sensor holders, x3, includes 4-40 threaded posts

$395

Perfusion fitting kit