Perfusion fitting kit, PS-KIT
This kit has everything you need to connect different systems together and to provide liquid delivery inside sample chambers. Compatible with 1/16in. I.D. soft tubing. Included x8 luer-locks and x8 ferrule-type fitting allow to connect to different size tubing: 1/8in. O.D. pinch valve silicone tubing and PPT polyethylene tubing. The kit also includes the following sets:






A set of tubing with luer-lock fitting and stainless steel needle attached, x8

Can be used with adjustable holders MH-MIS to provide inflow and outflow to chambers and dishes placed inside incubator. The holders are attached to optional inserts TC-I-4/3 or TC-I-100. Tubing fits through openings on sides of the incubator. The stainless needle attached to one end of the tubing can be bent to fit inside chambers and dishes. For use with perfusion or continuous media exchange systems.




Perfusion tubing with PFTE splicing and luer-lock ports, x2

Tygon tubing with thin splicing in the middle to fit through ports of TC-MIS incubators, to provide inflow and outflow through flow cells. Can be used with any luers. Click on image to enlarge.














Barbed elbow connectors, set x8

Fit 1/16in I.D. soft tubing and can be inserted into microfluidics devices. Can be combined with other parts of the kit to fit and provide liquid delivery inside incubators. Click on image to enlarge.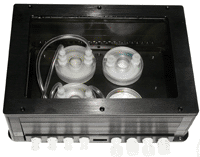 Perfusion tubing and luer-lock ports fitting, set x8

Tygon tubing (50 feet), a set of threaded luer-lock fitting (x8) for use with TC-MWP, TC-MIW, and TC-MWPHB incubators, and a set of luer fitting (x8) to connect PETRI-FLOW top, enough to provide inflow and outflow for four dishes. Can be used with any female luers.






Thin perfusion tubing to fit through incubator ports

For use inside TC-MIS incubators. Includes tubing to fit into reduces inflow and outflow ports, which are connected to stainless steel needles to extend to the bottom of a petri dish. Tubing has a luer-lock fitting attached.


Optional accessories: perfusion system, miniature tubing holders, flow control, tubing.



Download PDF catalog.
---
Bioscience Tools
ph: 877-853-9755, fax: 866-533-7490
email: info@biosciencetools.com


PRICES AND OPTIONS

$395

Perfusion fitting kit




$95

Tygon tubing 1/16 inch I.D. 50 feet




$195

Polyethylene tubing, 100 ft.




$195

Silicone soft pinch valve tubing 1/8 in. O.D., 100 feet